by Renee Gillespie, Communications + Marketing Specialist
---
Scott Erickson is an artist and creative who 'mixes autobiography, mythology and aesthetics to create art and moments that speak to our deepest experiences.'
---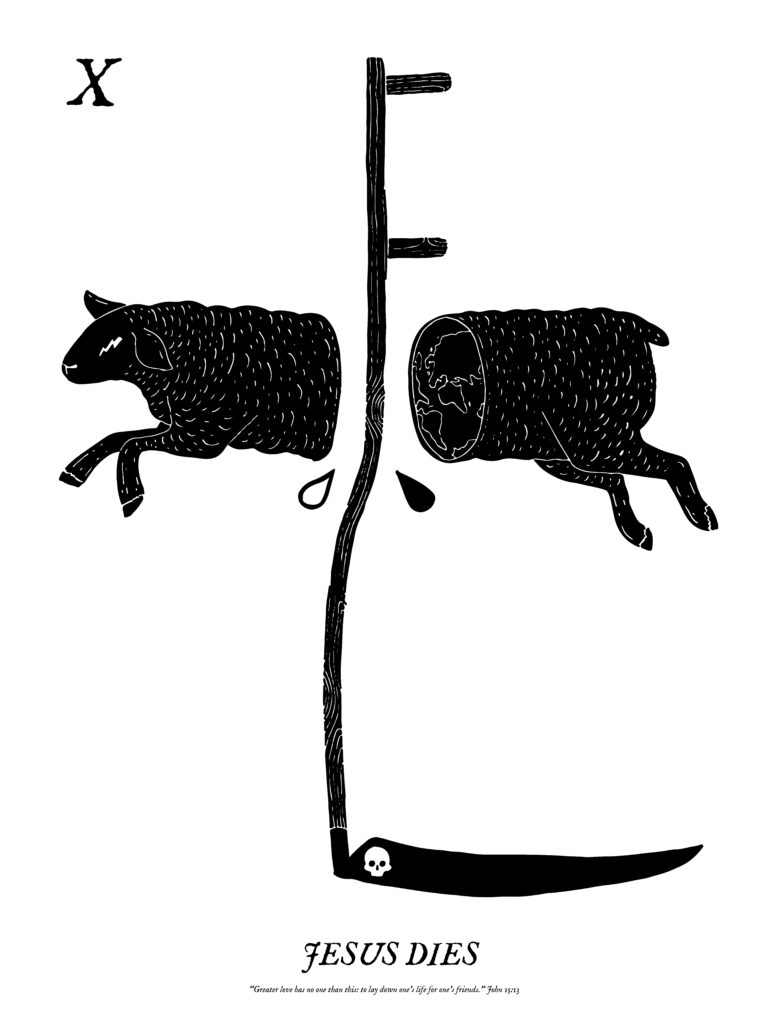 I've been following Scott's art for some time now and always find myself simultaneously challenged and encouraged by his work. The simplicity of the designs coupled with the depth of the messaging has left me speechless on multiple occasions. For the past few years, Scott has offered his variation on the Lenten tradition of Stations of the Cross—a visual representation of Jesus' words and actions during Holy Week. 
Day ten of this series, 'Jesus Dies' felt especially poignant to me as I wrap up my first year of ministry with Frontier Fellowship. The art (shown above) presents a lamb, cut in two by a scythe. In the clean cut, the world is shown. In his Gospel, John says this of Jesus: 
"Look, the Lamb of God, who takes away the sin of the world!" (John 1:29).
The author of Revelation then says this of the Lamb of God:
"For you were slain, and by your blood you ransomed people for God from every tribe and language and people and nation" (Revelation 5:9).
The Lamb of God—Jesus—died for me. He died for you. He was slain for every person in every tribe, from every nation, speaking every language. This all-inclusive Gospel is Good News; despite the heaviness of Christ's death, we have the opportunity to be reconciled with Him forever. 
Being a part of Frontier Fellowship has further opened my eyes to the reality that more than 2 billion people haven't yet heard of Jesus and this life-altering work He's done on their behalf. While this particular piece of art was created with Holy Week in mind, it is still speaking to me now, months after Easter. The frontier calls to us, and after a year with Frontier Fellowship, I hear it more resoundingly than ever before.
---
Learn more about the frontier at frontierfellowship.com
View the full Stations on the Street series by Scott Erickson at scottericksonart.com